Top 10 Reasons FRP Domes Are The Best Temporary Shelters
Written by Mike Thoms
21 November 2017
347 views
No Comment
If you're the kind of person that likes to be ready before disaster strikes, continue reading the top 10 reasons FRP dome homes are the best disaster relief shelters, and how they substantially mitigate the negative effects of a disaster situation.
With higher than usual number of earthquakes expected for 2018; it might be a good idea to absorb this information and become knowledgeable about what's important in a shelter when it comes to staying safe and sound.
1. Able to be quickly and easily deployed
When disasters strike and peoples lives are at risk, the less time spent on building shelters and getting people safely into them, the more time and resources can be spent dealing with the disaster until it is safe to allow people to go back to their homes.
If there are cases where their homes are destroyed, people need to rest assured that they'll have shelter that will keep them and their family safe until they can find housing with a family member and so forth.
With about 10 to 20 able-bodied people, approximately 20 FRP domes can be deployed within a few days.
2. Able to house at least 8 to 10 people at a time
When it comes to destroyed homes, people taking shelter are not looking to live in mansions, but instead simply want security and safety from the disaster situation.
Typical FRP dome specifications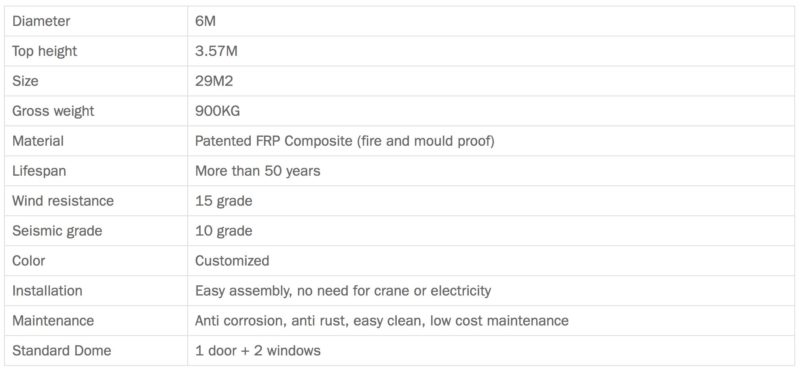 FRP dome houses can provide shelter during a disaster situation for at least 8 to 10 people which is usually more than enough space for the average sized family.
3. Can provide shelter for pets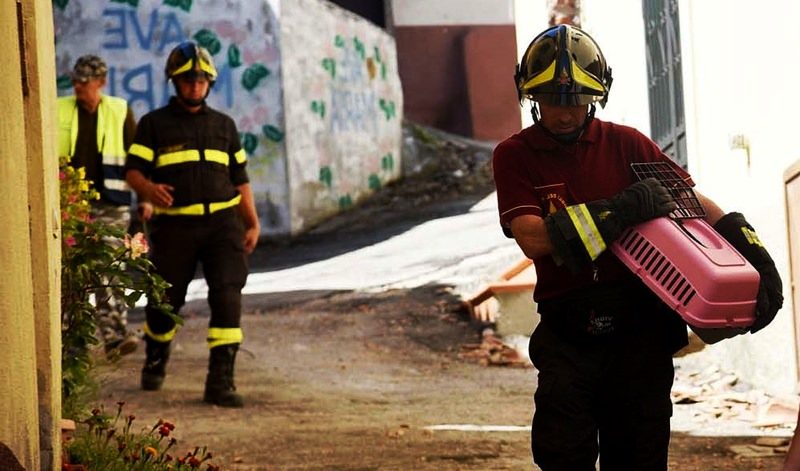 No one wants to leave their pets behind during a disaster situation and even considering doing so is one of the most heart-breaking decisions a family can make.
With FRP Dome houses, you can rest assured that if you require emergency shelter, you can also bring your pets along with you because a. there's more than ample room in an FRP dome, and b. it's completely safe to house pets within them without worrying that they'll destroy them in the same way as they can with a tent or yurt.
4. They need to be strong and sturdy
Emergency relief shelters need to be strong and sturdy; they need to be able to stand up to, and withstand not only extreme weather conditions, but be able to last as long as possible until people can either go home or go to their temporary residences.
FRP dome houses provide the strength and stability one would require from temporary shelters – they won't get moved by extreme winds; they're resistant to fire and floods; they maintain warm or cool temperatures as needed, and because of the level of strength manufactured into their fiber reinforced polymer panels, they'll last a lifetime.
If you're goal is to ensure people's safety and comfort, FRP domes are the logical choice for disaster shelters, and the best part about them is that anyone can purchase them.
5. Need to provide warmth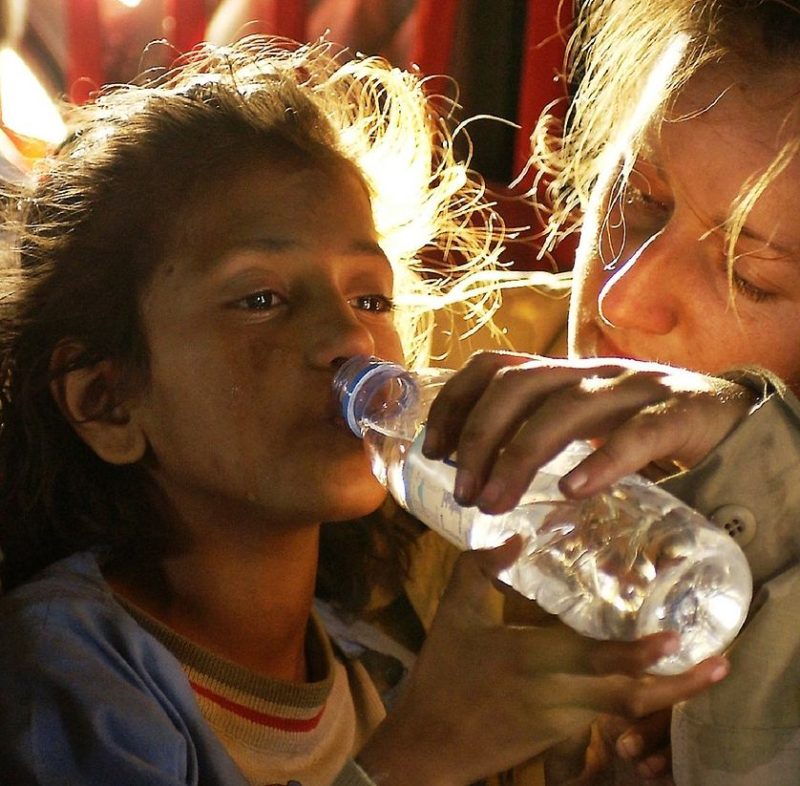 Tents, shelter canopies, folding shelters and hexayurt shelters are not efficient enough to provide the necessary warmth required of people and animals during a crisis situation. In contrast, FRP domes provide just that – enough warmth to keep people comfortable.
In disaster situations it's important that people remain calm and level headed, and doing so becomes quite difficult if people are sitting in their shelters freezing to death.
6. Require minimal maintenance
Various other forms of quick-setup shelters simply cannot be maintained as easily as FRP domes. Some disaster relief situations take months to resolve before evacuees are allowed to go back to their homes.
Simply put, FRP domes require virtually no maintenance which allows rescue teams to focus on rescuing and housing tasks, while evacuees can rest assured that their shelters are in perfectly working order until they're ready to go home.
7. Can store food and water easily
As mentioned, disaster relief situations can take days, weeks and sometimes months to resolve. In that time people need adequate food and water supplies. These supplies need to be stored in an area that is free from pests and rodents, easily secured from theft, and safe from being swept away or destroyed by high winds or strong waters.
FRP domes can easily store food and water – as stand alone inventory structures – or within the living quarters of the domes themselves.
8. They need to be flood and fire resistant
The major objective of rescue crews and agencies during a disaster relief situation is to get people out of the disaster area and into safety – and long term safety if need be. The last thing crews who are erecting emergency shelters want is for people to become endangered again, especially by ensuing fires, winds or floods.
FRP domes are especially manufactured to withstand the high winds of hurricanes and tornadoes, while inhibiting fires and resisting flooding. These aspects alone make one of the most attractive selling points when it comes to providing shelter during disaster relief procedures.
9. Able to provide the necessary amenities i.e. running water, bathrooms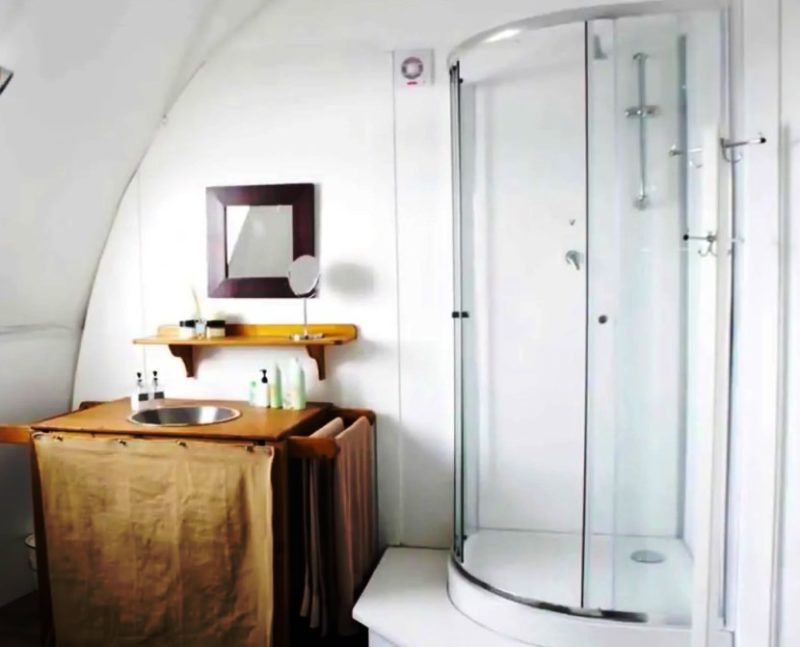 The more comfortable and safe you can make people during disaster situations, the better. As mentioned above, the objective is to make every safe, and to keep people calm.
Although being housed in a temporary shelter can be quite traumatizing, and cause undo stress, the more access to basic amenities that people have, the more calm and stable they'll behave.
Having such things as running water and a private toilet area can increase evacuees ability to carry on until the situation become stable.
Since dome shelters are easily extendible, and conveniently connect to one another, growing the space available is easy and allows you to continue providing in areas that are needed.
10. They can be used, and reused again
A temporary shelter – whether it be for emergency situations or for living off the grid – should be able to be easily deconstructed and moved if necessary. Although FRP dome houses are one of the most sturdy and stable dome homes on the market, they're also easy to take down, move, and re-build again.
Individual parts or light and all the parts for one dome can fit into the back of a pickup truck, and up to 5 of them can fit in a regular cube van.
In summary
Although many disaster situations don't call for prolonged stays in temporary shelters, there are those situations that do. This can usually occur after earthquakes or hurricanes in ravaged parts of the world, and even in more stable countries that have established emergency contingency plans and measures in check.
As of writing this article there's still an on-going humanitarian crisis playing out in Puerto Rico where hundreds of thousands are still without shelter, electricity, running water, and basic shelters. This is a perfect example of a crisis that would be substantially mitigated with the help of FRP domes.