Learning To Play Polo
Written by Alex Vanover
10 March 2011
4,845 views
No Comment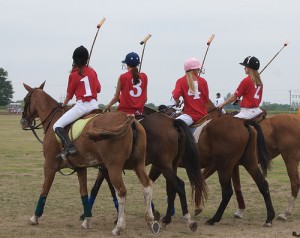 There are many different sports and horse games that are enjoyed by hunters, riders and jockeys all over the world. Some of these horse riding games are played on a professional and competitive level, and others are played merely for fun and sport. These sports originated in various places around the world, and of course includes games that are traditionally English or Western in origin. These include fun horse games and sports such as barrel racing, trail classing, and pleasure riding. Some very traditional British games are hunting, show jumping, dressage, cross country jumping, fox hunting, steeple chasing, racking, polo and more. Of this list polo is one of the most popular and is played in the most amount of countries worldwide.
Polo can be a very fun horse game to play and to watch. Many fans find it incredible to discover that this much loved English game in fact originated in China and Persia. In fact, the very name Polo comes from a Tibetan word which means ball. This game is over two thousand years old and was enjoyed in several countries before making its way to England. The first British polo club was established in the eighteen fifties, but the first ever game recorded was said to have been played in six hundred BC. Many fans are petitioning to have this exciting sport added to the world Olympic games.
If you want to play horse games such as Polo and you find that this sport interests you, then there are several basic rules and points you need to learn. You should begin with the very basics of the game. Polo has two basic types. The first is Arena Polo. This first kind of Polo is played by a total of six players with three on each team. One player is the pivotal player whose job it is to make plays and strike goals. Another player has the task of guarding against strikes from the other team, much like a goalie in a football match must guard his net against goals from the opposing offense. The last player plays depending on the condition and pattern of the game. He is much like a midfielder in football.
The second type of Polo is outdoor Polo. In outdoor Polo there are four players per team and therefore eight players on the field. Once again one player is assigned the task of guarding against strikes, another player to attempt to strike on the other team. Of the last two players one usually plays the role of defender while the other must judge the pattern and conditions of the game to know how to play. These games take place in an outdoor stadium.
The basic rules to this game are as follows. A goal is scored. When a player hits the ball, using his mallet, across the goal posts. There are three umpires whose job it is to judge goals, fouls, and award free hits and goals to the teams. Polo lasts roughly one hour. It is divided into eight seven minute periods called Chukkas.
In Polo, a pony cannot run for more than two seven minute periods. This is because ponies have to run about three hundred meters in each chukka. In professional matches ponies are only allowed to run one seven minute period each. This helps ensure that the game progresses and moves at a fast pace.
Joining a polo club is an excellent idea for anyone who is interested in playing this fun horse game. It does require a fair bit of skill in riding horses so it is important that you learn these before engaging in the sport. There are a host of clubs all around the world that can help you learn and enjoy this popular sport.