SEO For Real Estate Websites
Written by MJ Taylor
17 April 2012
10,356 views
One Comment
These days many real estate purchases begin with a search on the Internet. Indeed, according to NAR, 88% of buyers will use the Internet in their search process, and for more than 1/3 of buyers their search starts online.  An NAR survey also revealed that 40% of buyers found the house they bought online. (Source NAR/Realtor.org)
For Realtors that means a website is more important than ever – and not just any web site, but one that is optimized to be  easily found in the search engines.
The principles of "search engine optimization" (SEO)  for a real estate website is largely the same as for any business, but some of the important ways you can optimize content and build links are particular to real estate.
On Page and Off Page SEO For Real Estate Sites
There are two aspects to search engine optimization – on page or on site SEO, which is what is done on your own site and off site, which is about content placement and link building from other sites to your own.
On Page SEO for Real Estate Websites
The principles are the same for every type of site: create relevant, unique content and present it in a user friendly, search engine friendly fashion. On site tips for SEO:

Keyword research – Are your customers searching  "your city" real estate or are they searching  by 'neighborhood' real estate? Even in smaller area such as Key West, the more serious, targeted buyers are searching terms such 'casa marina real estate' and 'Truman Annex homes for sale," rather than 'key West real estate." You can use 'keyword search tools such as Google's External Adwords Keyword tool to learn what your buyers are typing into the search bar. You don't have to be an Adword customer to use this external tool but an Adwords account will let you test specific keywords with even more precision.
Title Tag – Arguably the most important on page element for search engine optimization after relevant content. Every page should have a distinct title tag. Use each page on your site to target a different phrase. Keep this tag within 70 characters and don't dilute it by repeating a keyword or using your company name; no one else is trying to rank for "Your Name."
Heading Tags – Think of your pages and their content as you might a newspaper article; you will have a headline and you will have subheads; those help the reader understand the topic and get a sense of where you are going with it. The search engines understand your headlines and subheads even better if you enclose them with heading tags; h1 for your headline (use only once) and h2 tags for subheads. An h3 tag also has an SEO value, but it's minor. Use it only if  if it makes your content more readable.
Keyword density – SEOs have been arguing for years about whether keyword density has a value and whether there is a perfect ratio of targeted terms to total text Most search pundits say the 5-7%  suggestion bandied about on webmaster forums is bunk, and I agree: there is no sweet spot, but there is certainly a sour one.  What you don't want to do is overdo your keywords. Long called "keyword stuffing" by the search engines, having an 'overoptimized' page – which includes high keyword density – is now being targeted by Google as part of its low quality indicators.   The best approach here is to ensure that your keyword density is no greater than that of the websites at the top of the SERPs (search engine results pages) for the phrase you're targeting. Best to keep it below 5%.
Off Page SEO – Building External Links For A Real Estate Site
Link Building Old Style – A lot of links are built via directory submissions, blog commenting, and forum participation. Directory submissions have an ever decreasing value, but still form a natural way to gain one way links to your website.  By all means seek out directories and especially directories that fit your niche.  For example, a gay Key West realtor is well served by a listing like this one: http://www.gayrealtynetwork.com/usa/florida/florida-gay-real-estate-agents/molinet-rudy-key-west.html.
Blog commenting can drive traffic and provide a one way link, but do remember it is best if you are genuinely participating in a community. Don't comment just for links, make it part of your online social networking and information gathering.  Your plan should be to establish a relationship with the blog owner – perhaps a referral might come from it, or the opportunity to write a guest post.
Forum participation is another 'traditional' way to create one way links to your site. If your participation is genuine, this can be a very effective way to help your website climb the Google Alps.
Content Placement – SEO Strategy For Real Estate Websites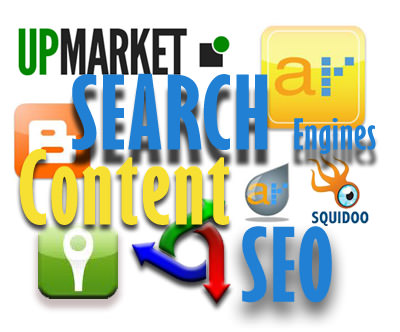 Content Placement — Nothing builds great one way links like content placement  (unless you come up with the next viral video, of course).  Some great ways to place content include:
Guest blog posts not only establish a one way link, they help to establish your authority as an expert and they drive traffic.
Article placement in quality directories such as this one and ezinearticles.com are another good way to establish credibility and create links to your website – especially if your article gets syndicated.
Press releases are terrific if you have real news – the good services are syndicated and create immediate links to your site and if you really have information of value, you may get a call from a reporter.
Off site blogs for Realtors: ActiveRain is an excellent source of traffic and SEO value for real estate agent websites – and a great place to develop a referral network. Trulia can also drive traffic and provide a useful one way link to your site.
Squidoo, Blogspot, WordPress, Hubpages –  – While not specific to Realtors, you can create your own off site blog on blogspot to highlight your listings and market news for your area. Squidoo is a great place to develop content – especially for Realtors who don't have much in the way of webmaster skills. You just need to have some good photos, and something to say. Here's an example of a page on Key Colony Beach which highlights vacation rentals for Key Colony Beach Realty: http://www.squidoo.com/key-colony-beach.  Hubpages is similar, though it took more of a beating in Google's the first Panda update than Squidoo did.  (Panda refers to a series of  updates to Google's algorithm specifically meant to target lower quality sites.)
Quality – I Saved the Best for Last!  Quality is the watch word and the most important of all SEO efforts – whether on page or off page. You want your content and any content you place, as well as the sites that link to you to be original and of value to your audience.  If you always put the user and the needs of your audience first, you will find you not only have a prominent place in the search engines but you keep the traffic you attract.
M.-J. Taylor is an SEO copywriter and owner of Cyber Key, Inc., an SEO Web Design company based in Key West, Florida and Asheville, NC.