The Top 10 Reasons To Use An RV Trader Before Buying Your First RV
Written by Sam Peters
17 November 2016
1,505 views
One Comment
It looks like you're about to take the plunge and buy your first RV but before you do, read the top 10 reasons to use an RV trader website before making a purchase. There are quite a few beneficial reasons for browsing for an RV online verses going to a dealer first. Read on to find out why.
There are definitely more than 10 reasons why using an RV trader site is beneficial before you buy but I've listed ten for now to get you started.
With that said, let's get to the list.
#1 Much Greater Selection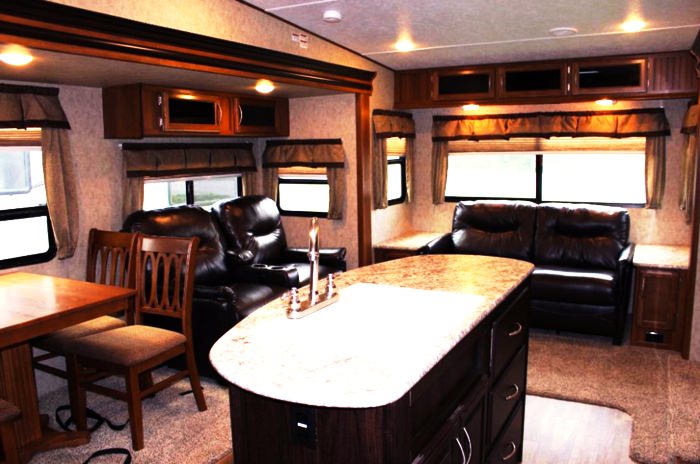 Using an RV trader site to find your first RV is much easier than visiting 10 dealerships in your area or out of town, and it gives you a much greater selection of RVs to choose from.
Shopping for your first RV takes some time; it's unwise to just jump into the first, or even second RV you fall in love with.
It will take time but taking advantage of the greater selection RV traders provide, helps educate you on many need-to-know pieces of information related to the buying process, and on how to get the best deal possible. Read on.
An RV trader will give you the opportunity to check out hundreds of recreational vehicles over a short period of time and help you get to know their distinct styles, their pros and cons, their size options, their capabilities, special needs, add-on features, and all the other various bells and whistles they uniquely provide.
Each of these options, appeal to people differently and so since you're about to spend quite a fortune on one, doing the research first is the only smart thing to do!
Sure, you can determine quite a bit by visiting a dealership but there's only so many hours in a day, and only so many RVs you can look at in one sitting.
Not just that, but there's only so much travelling one is willing to do, and forget about out of province dealerships because you'll need an RV to get there!
The greater selection an RV trader provides helps you to become educated as to everything RV related. Walking into a dealership for the first time without any knowledge of RVs is a gruelling stage of the buying game.
You generally know nothing about RVs and have no idea where to step next, what to accept and how to make a final selection.
There's lots to know and a lot more to understand about the RV lifestyle before you put you and your family behind the fifth wheel.
Educating yourself before hand puts you at a great advantage when finally talking with your local dealer about your plans to purchase an RV.
#2 Browse inventory at your leisure
This is probably the best reason to use an RV trader site vs simply walking into a dealership – browsing a live inventory online.
To start off there's the motorized and non-motorized RVs; then within the motorized class, there are 4 sub classes (A.B.C. and Bus); and for the non-motorized RVs there are travel trailers (see here for an explaination of all RV types: http://www.rv-adventuring.com/types-of-rvs.html).
The previous models mentioned are coupled with a vast number of manufacturers for each RV type. There's also the new and used RVs too!
Any person looking to buy their first RV literally has hundreds, and if not thousands of RV and options to consider; to examine and finally determine whether any one of them is right for you.
With all those options and potential pitfalls if you make a buying mistake, how could you not consider browsing for RVs online?
Using an RV trader will give you the opportunity to really "shop around", get a good deal on an RV. Above all it will allow you to find the motorhome or trailer that is exactly right for you, and all at your own pace and time.
Simply put? Browsing a live RV inventory online saves you a slew of time and ensures you'll be able to find the right RV without having to talk to a sales rep. until you have the right questions to ask and are almost ready to buy.
#3 No pressure from the sales person
RV sales persons are great. They know everything there is to know about an RV and they can usually answer all your questions but there's a down side.
RV Sales persons get nervous for sales too, and sometimes they inadvertently make potential buyers feel pressure to buy and make a decision.
This type of pressure is normal and comes with the territory but there's no worse feeling than being pressured to make a decision as to where you're going to spend anywhere from $30,000 to $250,000, especially considering you have so many options to choose from.
Who wants to make the wrong decision and regret it later? No one.
There's no better feeling than being armed with a slew of information about the particular RVs you're interested in and in the end, any sales rep would be much more glad to talk to you about your needs when you know what you're looking for. To her or him that's a quick sale and it's good for everyone.
When you're ready and armed with all the information you need after browsing an RV trader you'll be able to make an incredibly informed decision and in the end feel confident that you put your money in the right investment.
#4 The ability to research and compare RVs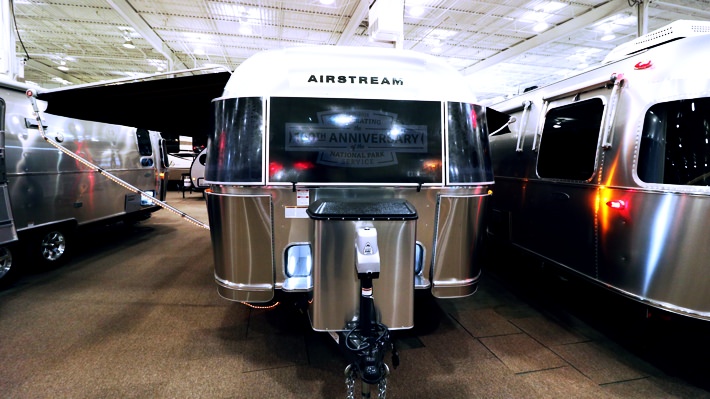 This area is slightly covered above but should still be expanded upon as it's a great point.
Sure, you can visit an RV dealership and in a few hours, take a look at 3 or 4 RVs – yes you read that right – 3 or 4, maybe 5 RVs if the sales rep isn't too busy with customers ready to buy.
You can walk through the RVs, touch them, sit in the chairs, at the wheel and even test the beds for comfiness; if you're mechanically inclined you can even ask to see the engine but all in all you're going to a. miss out on comparing a vast number of RVs and b. only really get to see a few at a time.
In the end, if you don't compare a large number of RVs, you're almost going to settle and buy one based on it's looks and that's where regret can set in down the road especially once you become accustomed to the RV lifestyle and realize what else you could have spent your money on.
The more you research and the more you compare RVs the better the chances that your purchase won't be one of regret.
As I mentioned above, there are thousands of types of RVs so why settle for one based on how much time you have? You shouldn't.
#5 Find RV sales much easier
As soon as you walk into an RV dealership, RV sales and deals aren't always immediately apparent, and if you're a first-time RV enthusiast you probably don't know what constitutes a good sale.
That's where your background research will have come in handy.
Researching RVs in general gives you tons of information that will help you determine exactly what a good sale is compared to simply taking a dealer's advice or going in blindly.
Sale amounts will start to make sense with respect to other RV deals because you'll start seeing trends in certain sales – especially in comparison to other RV dealerships.
It's very simple: do you want to find a good sale on an RV? Use an RV trader website first!
#6 Subscribe and wait for RV sales to come in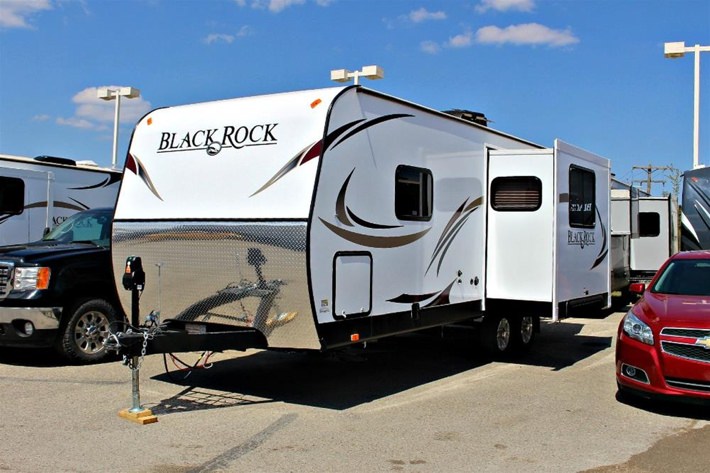 Many RV trader sites allow you to subscribe to dealer or website feeds and will notify you if sales on any RVs come into the website.
Besides being able to subscribe to upcoming sales from multiple dealers, most RV trader sites allow you to make comparisons right on the vehicle detail page; (you can select the type of RV: i.e. motorhome, fifth wheel, travel trailer, camper etc.); you can select price ranges, clearance models and sort by the model's year.
One such website is an RV Trader in Canada which will give you a great number of options for shopping, comparing prices and features, and facilitating communication with the dealer selling your RV.
Then there's the Automobile Trading sites that sell RVs too. Sites like these are generally RV classified sites where private owners can sell there RVs. Most of them don't have a wide selection of RVs and there's minimal dealer information.
You can also use websites like Kijiji to find an RV but there's always going to be the safety issue, not to mention you can only contact the dealer but you cannot subscribe to their sales feed.
An RV sales feed subscription is great, not only if you're waiting it out for the best RV, but if you know someone else who's interested, you can pass that information along to them.
#7 Browse RV sales out of Province
Another benefit is being able to take advantage of RV sales in other provinces simply because you don't have to travel there first to find a deal, and you don't have to do much research as to who's a top RV dealer in a particular area. RV traders find that information and take care of it for you.
With RV traders, you can find one recreational vehicle is thousands of dollars cheaper than other ones out of province; you can find more perks, deals or big sales.
If you do find a better deal in another province the RV trader site your browsing will usually give you the dealer's contact details so you'll be able to get in direct contact with her/him and obtain further information about the RVs you're interested in.
Very long gone are the days of only visiting local dealerships within city-bounds. Thanks to the internet an RV enthusiast can virtually search the entire country and find the RV of their dreams.
#8 Ability to research RVs
This great point maybe should have been mentioned earlier because we've already covered a lot of it but it's still important to touch on it because the benefits of being able to research an RV before you purchase one, or even before you go to the dealership is highly important.
To recap: setting a few hours each evening, morning or weekend allows you do to all the necessary research you need to do about RVs before you make that big purchase.
Researching through a trader site allows you to discover your favourite RV models, your favourite manufacturers, which bells-and-whistles you're looking for; you'll be able to make comparisons as to safety and reliability; most of all you'll be able to look for and find the exact kind of RV you want without making several trips to a dealership.
Doing your own research puts the ball in your hands and ensures you'll find the RV of your dreams before you even have to set foot into a dealership. To be honest with you, RV dealers actually prefer dealing with customers that have a decent background into the industry and know quite a bit of what they want before hand.
Being armed with lots of information makes the dealers' job easier and it puts you in a better position to negotiate a deal.
#9 Ability to compare prices and sales quickly
Comparing the price of one RV over another isn't nearly as easy a task as it is by using an RV trader for the simple reasons that at the dealership, you have only a limited number of RVs to choose from, and each of those RVs have their own limited features as well.
There's that issue and the one we've all heard when trying to purchase a car – "oh, that one is the model, and we don't have it in stock yet". That doesn't happen on an RV trader because the RVs listed are come from live feeds of actual existing RVs on the lot.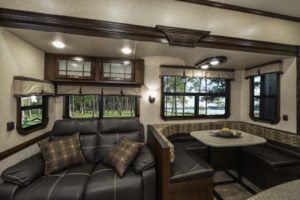 Using an RV trader you can use Price Compare features that easily help you determine why one RV's price is highly or lower than another, and that knowledge will further arm with you information that is conducive to the buying process.
Most RV traders have these features and you'll be surprised to find that only after a short period of time you will have been able to look through hundreds of RVs from many different dealerships without having to actually visit one or bother a dealer before hand.
RV sales and deals are put on year round by dealers but they usually do so in cycles. The cycles we've found are that RV sales are strong when Spring is making it's way into the season and just before the winter season.
So if it's a sale season, don't limit yourself to one RV and one price. Shop around online because there's a chance you'll find the right deal that matches your budget and will help you fulfill your dreams of living the RV lifestyle.
#10 Ability to communicate with multiple RV dealers at a time
RV Traders are mostly all set up to give you direct communications with dealers whom are generally apt to responding to customer inquiries pretty quickly. Communications are rather instant and many even answer messages on weekend.
Once much of your research for an RV is complete, and once you've found the deals and sales you're looking for you can start the communication process with the dealer through email or text messaging, and even negotiate more deals yourself – all in the comfort of your own home before you actually go in.
Communicating with dealers before going into a dealership is a major plus for aggressive negotiators too. In the end once you've got at least one dealer who sees eye to eye with you on a price, you can simply ditch the other dealers and go on to purchasing the RV that works best for you and your budget. This can all be done from home and actually mean that you've only had to visit one dealership no matter where it is in the province.