Top 10 Small Home Renovations You Can Do To Save Money
Home renovations don't always have to be expensive and they don't always have to involve renovating everything at once. In fact, you can choose different parts of your home to renovate at a time and eventually have your whole house looking brand new, and in all the right places.
With that in mind we've decided we're going to help you discover 10 small ways to renovate your home that won't break the bank and will give you that new home feeling once again.
#1. Install a new front door
If your front door is getting a little out-dated or is just plain old, installing a new one can do wonders for the look of your home. From the inside and out, you and your visitors will notice a significant difference in the look and feel of your front entrance area.
Finding a stylish new door is easy too. One way to explore your options is by visiting your local Home Depot or Lowe's and check out the new doors they have in stock. You'll be amazed at some of the beautiful and fresh styles they're offering. Times have changed since your first door was installed so which ever you choose will definitely be a decent upgrade to your home and won't cost you too much money.
You can also go online and search for new replacement doors at various websites where you can see large selections before even making a purchase. This will help you find a style that will fit in well with your home's existing style. Home Depot even allows you to view their inventory online and once you've found the style of door you prefer, you can order from their website and pick it up at your leisure. Here's an example of a website in Brantford that showcases front doors, allows you to choose one or more you desire, and lets you actually go in and purchase it.
Once you've found the new replacement door you'd like installed, you can call your local home renovation company to have them professionally install it so you can be sure everything is done right.
#2. Install a new garage door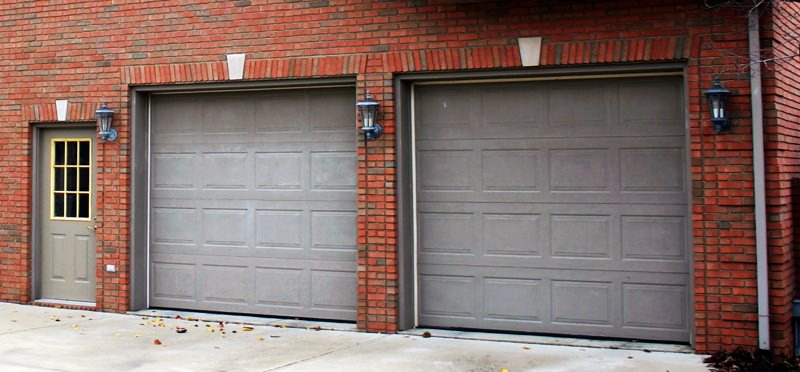 Like installing a new front door, installing a new garage door can spice up the look of your home while leaving you with enough money for other smaller renovation projects. Note, a whole garage renovation is not in order. Most garage doors are built to common specifications which means after you've found the one that suits your needs, all it takes is hiring a custom carpenter or renovation company and they'll happily install it for you.
Installation will only take about a day to complete and once it's done, you and your neighbours will enjoy the new look without you having to go through an entire home renovation project.
#3. Install a new counter top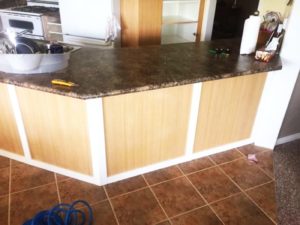 Of course kitchen renovations can be costly for some so instead of putting all your money in one basket, why not simply install a new counter top? This is easily one of the best and most inexpensive kitchen renovation projects you can do. Everyone loves the look and feel of a new counter top and if you choose the right one you can definitely make your kitchen look brand new again.
These days modern kitchen counters come in so many styles. You can choose marble, quartz, glass, granite and more. If you're truly interested, simple visit this link (http://www.hgtv.com/design/rooms/kitchens/our-13-favorite-kitchen-countertop-materials-pictures) and check out all the awesome styles you can choose from. Once you've found something you love, call your local kitchen renovations company and ask them to install it for you. This is another area where you definitely want an expert carpenter to do the installation so everything fits just right.
A new counter top in your kitchen is going to blow you away and you'll thank us for giving you such an ingenious renovation top!
#4. Install an updated bathroom sink and matching toilet
Old rusty outdated bathrooms can be depressing. A bathroom is suppose gorgeous and welcoming – to be your peaceful and private abode and when you're in there you enjoy every minute of it. Rather than go for a full bathroom renovations, start off with installing a new bathroom and toilet.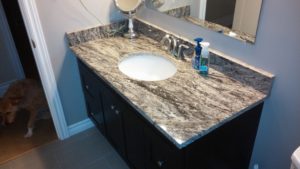 There are hundreds upon hundreds of different vanity styles to choose from. When it comes to sinks, you can choose a Vessel Sink, the popular self-rimming sinks, under-mount sinks, drop-down sinks or even wall-mounted sinks. Again, Home Depot has a huge selection to choose from and by visiting their website you can take all the time you need to make the best selection that suits your home's style.
Finding a matching toilet is just as easy. Virtually any store that sells bathroom sinks will sell matching toilets as well. Once you've finished making your selection your renovation company can be contracted to do the installation for you. Once it's done, you can take your time to add your new decorations and finally enjoy the end result of your bathroom project.
#5. Upgrade your patio door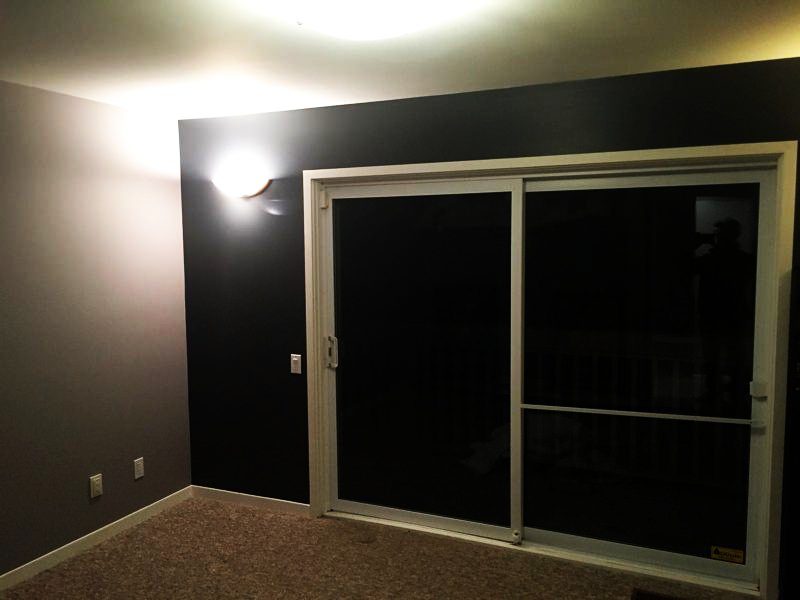 Like the front door, a patio door upgrade can be just as inexpensive and take an outdated look and make it brand new again. Along with the aesthetic benefits of an upgraded patio door, most of the doors manufactured today are energy efficient which comes with many benefits. See the benefits here.
Most doors that are at least 20 years old are enduring a wear-and-tear that naturally makes them slightly less efficient at blocking air-flow – not so with new patio doors. Over the years patio door engineers have developed a product that's reliable, user-friendly and energy efficient so you can bet that you'll see some changes in your heating bills too!
The good news about a small renovation job like replacing patio doors is that it's a one day job and there's virtually no mess to clean up besides the left-over parts of your previous door.
There are going to be literally hundreds of patio door companies online where you can browse through their inventory and then go and visit them in person. Many patio door companies also install the doors themselves so this is one area where you may not have to hire a home renovation company.
#6. Upgrade your kitchen window
Upgrading your kitchen window is a small renovation job that almost takes the cake. If your kitchen has a nice kitchen window overlooking your backyard or some other pretty view, and if your home is a bit aged, installing a new window could do wonders for the feeling you have of your home and bring you a lot of joy while you're in your kitchen. Deciding to go with this small kitchen renovation will set you back much less than a patio door, front door or garage door, and will probably bring you more aesthetic happiness.
#7. Apply hardwood floors to one room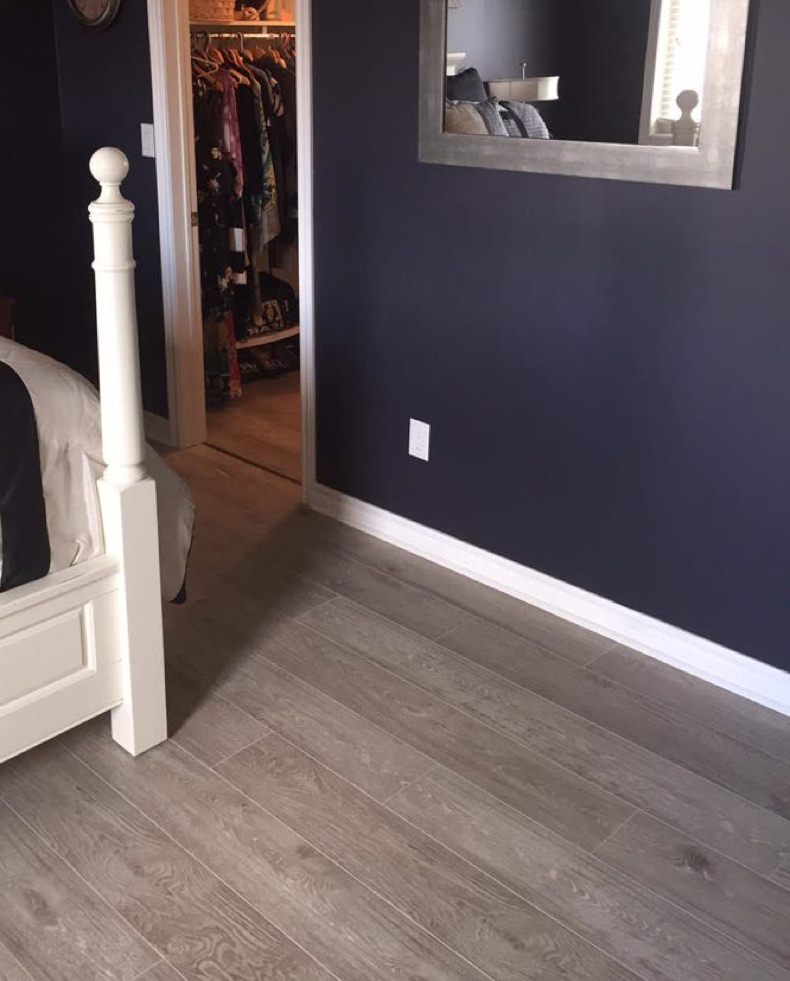 Contrary to popular belief, there's absolutely no problem with you applying hardwood floor to only one room in your home at a time. It's an awesome plan and you'll love it. It's been done by thousands of home owners and they all say it gives them more motivation to save for the other rooms.
All you have to do is select the first room you're going to add floors to. We usually advise that they select the hallway leading to the bedrooms. This lets everyone together experience the new hardwood floors and get used to them.
Then when you've saved up enough money or have more time, you can start with another bedroom. In almost no time you'll have your entire upstairs done with hardwood floors and you'll probably ask yourself why you didn't get them sooner.
From there you can start thinking about a stair case renovation.
#8. Re-pave or interlock your driveway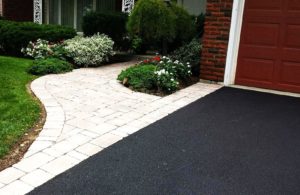 If you're not in the market for purchasing a new home, you can take advantage of an inexpensive makeover by re-paving your driveway or installing interlock – especially if you still have a stone driveway. Paving a driveway is much cheaper than interlock but they'll both refrain from putting a huge dent in your pocket. They're usually only a few-day jobs but they'll make your home look brand new and awesome!
A new driveway gives your home that brand new look and makes your street look better. Ever notice that when you see one driveway being done, there are always 2 or 3 more on the same street doing it too? A new driveway adds value to your home and is always a delight for everyone to see.
Getting ideas for a new driveway is easy too. You can simply search the web in your area for driveway and interlocking companies and view their image galleries for examples. That way you'll have tons of ideas to choose from and make sure you choose the best fit for your driveway. Here's an example gallery from a driveway business in Hamilton.
#9. Paint the main entrance hallway
A new paint job in your main entrance hallway is a small home renovation but it will definitely bring you some joy and gladness every time you walk in and out of it. A paint job is usually one of the first steps to a full home renovation – a beginning stage that gets the motivation going and when it's done at the main entrance it's perfect because everyone gets to see the new look.
It's smart to sit with a designer or do some of your own research but try to choose a colour or two that will compliment the way your home is going to look in the future after further renovations and remodelling. Don't worry too much if your new style doesn't actually fully reflect other aspects of your home as it currently is. It's OK, you'll get there.
#10. Renovate your kitchen cupboards
If your home is 15+ years old, a small and inexpensive kitchen cupboard reno can easily make your kitchen look alive again and make you enjoy cooking again.
Kitchen cupboards and cabinets are extremely affordable and for less than a few thousand dollars you can – with the help of a carpenter – make your kitchen look brand new again.
Finding new kitchen cabinets that suit your style is so easy to do too. Simply search online and you'll discover a slew of kitchen cupboard companies in your area that showcase their products and allow you to call in and order.
Follow these small renovation tips and slowly but surely make your home great again. You, and your family will thank you!
In closing these tips, it's important to note that if you do indeed decide to do separate renovations over a few years time, first consult with a designer to ensure that each job won't conflict with other ones. As an example, if you're going with a traditional theme you'll need to ensure each job reflects that.