How to Turn Off the Furnace Fan When the Heat is Off
Written by Erin Saluca
3 November 2017
190 views
No Comment
I've searched the net far and wide and definitely couldn't find a solution as to how to turn off the fan on my furnace that runs even when the heat is off. Oh there were tons of websites telling me to turn the thermostat onto "auto" or to simply call in a furnace technician but none of that was good for me.
Why? Well for starters, turning the thermostat onto auto did not work at all and hiring a tech was just not in the books especially for something I can guarantee could be done on my own. The problem was, as mentioned, there wasn't one site on the internet that actually gave me a working solution.
So I decided to take matters into my own hand. I gave a call to a heating and air associate of mine at Aire Works, and asked him if it was at all possible to disable that air fan if there's no heat on or is that just the way it is based on the model.
The long story short is that it is possible and with two tools anyone without any experience in furnaces and air conditioning can fix it.
Here's how it's done.
Steps to turning off the air fan if there's no heat
If your furnace air fan runs when there's no heat, turn the electricity to it off and follow these steps to disable the running fan:
Use a screwdriver to remove the bottom metal panel from the furnace
Find the circuit board which will have a slew of electrical wires attached to it
Locate the node labeled "Constant Heat"
Use your fingers or pliers to gently pull the wire out of that node
Wrap the end of that wire with electrical tape
Tape the same wire to another wire so it's not dangling
Close the bottom metal panel and screw the screw back in
Turn your furnace back on and test it
The picture below is a shot of the circuit board you'll see when you open the bottom panel of the furnace. I've circled in red marker the wire in question, and if you look carefully, you can see part of the word "Constant" as in Constant Fan. Pull that wire out and your furnace will work like it did in your parents house when you grew up. In my case it was the red wire you see in the picture.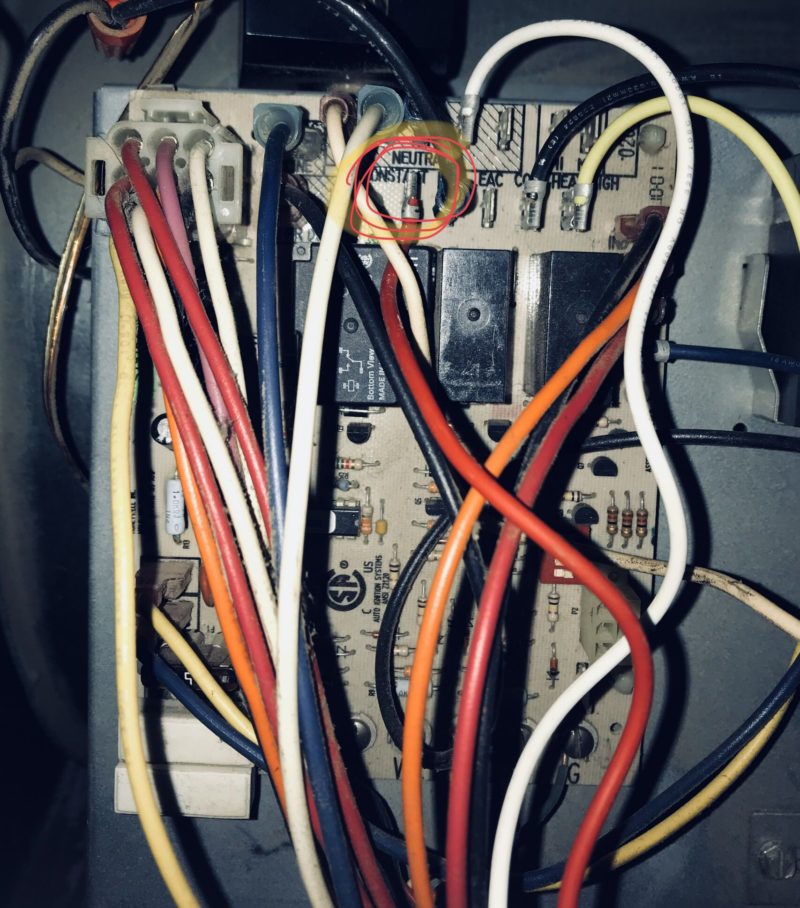 I presume you'll be happy to find out that your constantly running furnace fan woes are finally over. If you tried this and it worked for you, feel free to leave your experiences in the comments below.