What Is The Best Vacuum For Allergy Sufferers?
Whether your allergy1 symptoms stem from seasonal irritants like pollen, or from environmental issues like dander or dust, it is important to have the right tools at home in order to ease your symptoms.
Tackling this kind of problem means having important things like a good vacuum cleaner, as well as a way to remove dust and build-up from hard to reach places like corners, crevices, and behind furniture or appliances.
Determine What Features Are Necessary
The first step in choosing the best household cleaning tool for reducing allergy symptoms is to evaluate what your needs are. This will make it easier to narrow the choices down to just a few models.
Some will find that features such as a reusable or easy to change filter are important while others may prefer compact models, or even ones that include a number of attachments for cleaning the entire home.
One thing to keep in mind when looking at the different models is that the more features you add, the more it may end up costing. This can sometimes be a deal breaker for those who need to stay within a budget.
One way around this is to look at refurbished units. While they have been used, they are typically reconditioned and are certified to perform as good as new but at a fraction of the original price.
Accessories Can Make A Big Difference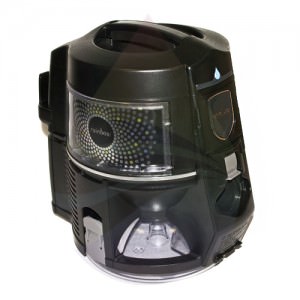 Vacuums2 are the leading electrical household appliance when it comes to treating allergy symptoms because they can be used to clean nearly every surface, as well as behind and underneath furniture.
In order to this, the unit needs to have at least a few basic accessories like a crevice tool and an upholstery brush. These are often considered the bare minimum, and are included with nearly all units.
To get the most out of these tools, make sure to use them along walls, windowsills, or anywhere that allergens tend to build up. Furniture surfaces and chairs are another common place, especially if there are pets in the home.
Some accessories may take the cleaning even further, such as bags that can be used to help clean pillows, pet bedding, or even stuffed animals. These objects are often full of allergens because they are seldom washed.
Those looking for the very best vacuum for allergy sufferers may wish to consider a model that also has the ability to shampoo carpets and mop the floors. These units are ideal because they replace several other appliances or tools.
One key advantage to vacuums that can shampoo carpets as well as mop floors is that they are typically very powerful and will remove dirt and allergens while they freshen the air.
An all in one option like this also means it is incredibly easy to go from vacuuming to mopping just by changing the accessory. This can help save a lot of time while cleaning, which can be important during peak allergy season.
Look For Bag-less Options For Severe Allergies
Many never consider the fact that their vacuum cleaner can sometimes contribute to their allergies. The main reason for this is because dust and allergens can build up in bags over time as they are not replaced unless they are full.
Bags also tend to rupture or tear easily, which can lead to the contents spilling in the home, making allergies even worse. Changing them out can even lead to allergens escaping into the air, forcing many to change them outside.
The only way around this is to look for bag-less options that use a canister or water basin to trap dirt and allergens. These are considered to be the best vacuum for allergy sufferers because they can be rinsed after every use.
---
Related Resources:
---